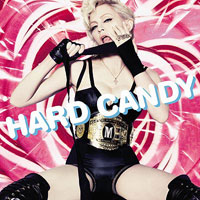 It's Madonna's final album with Warner Records, the first in a long time where she has given up her reigns of production and goes with "Hot" producers like Timbaland instead of finding the up and coming ones. I'm kind of spilt with this album. I find the production too noisy and cluttered. Some of the songs go on too long and I could do without the rap guest spots. I have to admit that the album is a lot less R & B then I feared and is more pop friendly.
Candy Shop
is OK but does she really need to sing "my sugar is raw sticky and sweet". I love
4 Minutes
but it's the magic of Justin Timberlake that makes the song leaving Madge to be his backing vocalist.
Give It To Me
and
Heartbeat
are cute and catchy.
I originally heard
Miles Away
covered by Youtube star Mr. Boogie and I instantly loved the song it sounds very Madonna like however I hate the production on the album, there is too much clapping noise throughout the song. This song really needs to be redone I can hear it as an acoustic track.
She's Not Me
is one of the best tracks It pokes fun at all the Madonna imitators in a retro disco "Ring My Bell" beat, then goes into a pseudo Beatlesque bridge, turn into Donna Summers Bad Girls complete with the whistles, then goes on too long with vocals by Pharrell Williams.
Not sure what to make of the song
Incredible
it's fun but has a really annoying synth/drum loop that overpowers the entire song, again the song goes on too long with vocals by Pharrell Williams, sometimes less is more.
I prefer the demo I heard of the
Beat Goes On
to the finished product. They got rid of a lot of lyrics including a bridge leaving almost nothing left. Then they added the Kanye West rap which I really don't care for, it doesn't fit the song at all.
The album loses it's momentum in next 2 songs. I'm not crazy for
Dance 2night
although it's supposed to be a retro dance tune.
Spanish Lesson
could have been a good song but it's all over the place. It's indicative of the album, there are great pieces but all the pieces don't fit together properly.
The last 2 tracks are co -written by Justin Timberlake.
Devil Wouldn't Recognize You
is not a bad song it remind me of his hit "What Goes Around Comes Around". The last track
Voices
start of with this weird Queen vocal intro then ask "who is the master who is the slave". A great question to ask about who 's direction really produced the album. This is my least favorite cover artwork of hers, it doesn't look sexy but cheap...maybe that was her intention.
The album sounds better after a few listens. I like it better then American Life and Bedtimes Stories two of my least favourite Madonna albums. If it stands the test of time remains to be seen.