Fame Lady GaGa the album review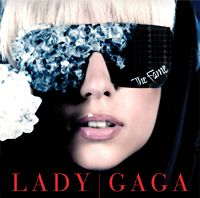 The new number one song in the USA and the UK is Lady Gaga's "Just Dance". Who you ask? Her real name Joanne Stefani Germanotta she's a 22 year old singer/songwriter from New York City. She has written songs for the Pussycats Dolls, Britney Spears and New Kids On The Block. She considers herself a performance and visual artist sighting Andy Warhol for inspiration.

The record is so European sounding that I was shocked to find out she is American. Has electronic dance music finally conquered the North American market? Gaga definitely knows how to write a pop song with hooks and melodies that drag you right in. Her influences are David Bowie and Queen (her name was chosen from their hit "Radio Gaga"), but aside from the title track I don't hear the influence on her record which is mostly heavy club and dance rhythms. I have to admit I was first put off by "Just Dance" and her new song "Poker Face" which I found annoying but the album is quite solid. My favourite tracks are the slower jams "Eh, Eh (Nothing Else I Can Say)", "Paparazzi", "Summerboy" and "Boys, Boys, Boys" her ode to Mötley Crüe's hit "Girls, Girls, Girls". Her version could well become a gay anthem. "Paper Gangsta" has a great melody and a driving keyboard line throughout the song that is just delicious, it reminds me a bit of Mika, the lyrics "Sometimes I felt so Def in the Jam", "don't want no paper gangsta won't sign no monkey papers I don't do funny business not interested in fakers" could the song be about her record deal with Def Jam that fell apart?

The only odd song is the ballad "Brown Eyes" which seems lost on the record. It looks like I have my first entry for top albums of 2009.